According to preliminary data from the International Data Corporation (IDC) Worldwide Quarterly Mobile Phone Tracker report, smartphone vendors shipped a total of 313 million cell phones in the second quarter of 2021, a year-on-year increase of 13.2%.
This data has a dramatic impact on the screen protector market. A wide variety of cell phone screen protectors safeguard screens from cracks and scratches, which is their most basic function, but also include features such as oil resistance, anti-peeping, and beautification of cell phones. On average, each mobile phone needs 2-3 screen protectors across its life, which results in considerable consumption volume. In addition, many screen protector manufacturers design complex packaging for their products, and most of the packaging materials cannot be recycled directly and end up in the garbage after screen protectors are produced, leading to material waste and environmental pollution.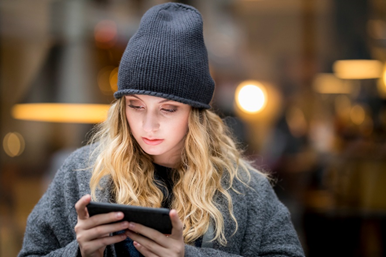 With carbon reduction and environmental protection becoming a major consumer expectation, more people than ever are aware of the importance of using resource-efficient products. BGZ brands, a leader in device protection, attaches great importance to environmental protection and sustainable development. The company remains committed to providing products that protect mobile devices and that can be used safely by consumers, while also protecting the earth through innovative green- design concepts.
BGZ brands has adopted an environmental approach in the production of BodyGuardz Eco PRTX cell phone screen protector. This screen protector pairs shatterproof synthetic glass material with a patent-pending, reformulated adhesive to reduce material consumption without degrading performance. Components also include recycled content and biodegradable materials.
BGZ brands partnered with TÜV Rheinland to get their Green Product Mark certification for an entirely new category. With the BGZ brands key pillars of integrity and accountability, the company sought TÜV Rheinland's stringent testing protocols and expertise to certify the "green" claims of Eco PRTX. The Green Product Mark of TÜV Rheinland has passed the assessment process of the Internationally Coordinated Ecolabelling System (GENICES) and complies with internationally recognized standards and guidelines. They provide guidance for consumers in purchasing products, help companies protect the environment, and enhance the user experience.
As a member of the United Nations Global Compact and the Global Ecolabelling Network (GEN), TÜV Rheinland actively advocates worldwide compliance with human rights and environmental protection, promoting mutual trust and recognition between its Green Product Mark certification and other eco-labelling systems.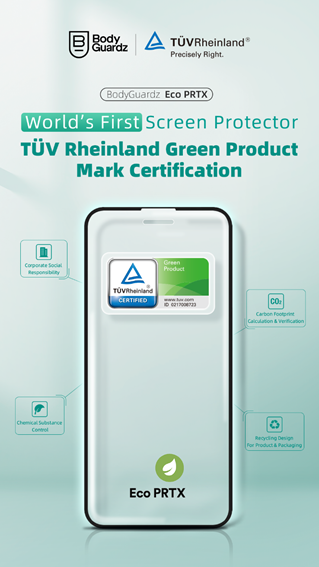 In the four months since the project began, the BodyGuardz Eco PRTX cell phone screen protector has been tested and evaluated based on the TÜV Rheinland's four aspects of the Green Product Mark certification. They include corporate social responsibility, chemical substance control, carbon footprint calculation and verification, and recycling design for product and packaging. According to the requirements set by TÜV Rheinland, BGZ brands has strictly controlled toxic and harmful chemical substances to ensure its product will not cause harm to humans nor the environment. Meanwhile, in order to actively respond to the goal of global- carbon neutrality, BGZ brands has optimized the product- design process and accurately calculated the overall carbon dioxide emissions in production, transportation, and use, and includes recycled content and biodegradable packaging materials.
BGZ brands has developed and produced Eco PRTX according to the Green Product Mark certification standards of TÜV Rheinland. It is the first screen protector with this certification to go to market. The screen protector has not only set a benchmark for the industry, but has also established a new standard for the company's own development.
The Eco PRTX screen protector, certified by TÜV Rheinland's Green Product Mark, is making inroads into the North American market. This "green" cell phone protector will also be available to local users who purchase cell phone accessories.